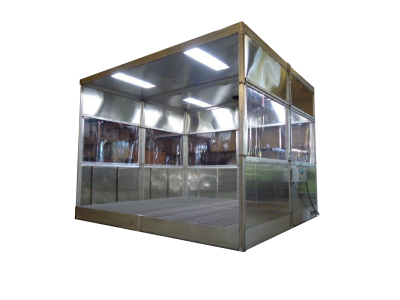 Wash Bays and Spray Booths can be manufactured any size and with any detail that your company needs. 
All come standard with a removable steel floor grate and a sloping base floor for complete drainage.
All are engineered to be well lit and easy to see in and out of.
Specialty features can include:

Inclined ramps
Inline Water Heater
Spray Detail Hand Wand

Waste Water Pump

Chemical Injector System

​

​We can include any custom feature that your company may require.

​Fill out the contact form at the bottom of the web page or give us a call for a quote.

**Scroll Down and view our gallery of the many

custom designs that Intercont has

manufactured for various industries.**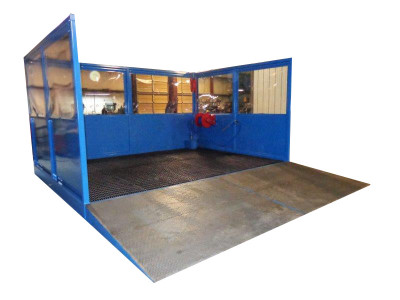 Unique 2 Piece Design with Double Curtained Doors.
the right for a walk around video.
HIGH  PRESSURE  SPRAY  CABINET

THE HPSC PROVIDES A FAST ECONOMICAL CLEANING SOLUTION WITH UP TO 1000 PSI, FOR LARGE PART CLEANING.

THE HPSC CAN BE MANUFACTURED WITH A 500 LB WORK LOAD CONVEYOR, WITH DUAL RUBBER CURTAINS ON EACH END.

THE HSPC CAN BE MANUFACTURED WITH FOOT CONTROLS ALLOWING FOR HANDS ON DETAIL WORK INSIDE THE TANK.  

THE INDUSTRIAL STRENGTH HYDRACELL PUMP GIVES THESE MACHINES A LONG LIFE IN YOUR INDUSTRIAL SETTING.

STANDARD SPECIFICATIONS ARE LISTED BELOW; BUT THE HPSC CAN BE CUSTOM MANUFACTURED TO YOUR SPECIFICATIONS AND NEEDS.  

GIVE US A CALL FOR MORE INFORMATION.
HSPC STANDARD SPECIFICATIONS

MACHINE AREA FOOTPRINT           62" L X 48" W X 70" H

WORK AREA OPENING                     24" H X 36" W X 24" D

PUMP MOTOR                                    1.5 HP HYDRACELL

PUMP OUTPUT                                   UP TO 1000 PSI

FILTRATION                                        100 MICRON INLET SCREEN W/SOCK

POWER SOURCE                                 240 VOLT/ 1 OR 3 PHASE
HEAT SOURCE                                     4.5 KW WITH THERMOSTAT
CABINET CONSTRUCTION               10 GUAGE STEEL
WORK LOAD                                        500 LB

SOLUTION CAPACITY                        60 GALLONS
HAND DETAIL WAND

NEOPRENE LINED GLOVES
ADDITIONAL OPTIONS

F1 BAG FILTER SYSTEM

CONVEYOR BELT

​TURNTABLE


<<< Click on our You Tube link to view videos of some of our  machines.